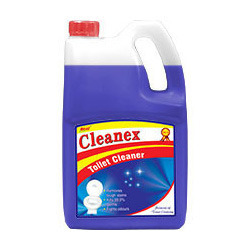 Herbal Toilet Cleaner
Price And Quantity
Product Specifications
Product Description
Toilet Cleaner
Direction:
Apply a small squirt along the top of the surface to be cleaned.
Allow the liquid to run down along the surface untill completely covered.
Let sit for several minutes to allow acids to break down the lime scale.
Active Ingredients : Acid, Anionic and non ionic surfactant blue colour, fragrance.

Products Specifications

Size container

Liter

Physical state

Thick Liquid

Colour

Dark Blue

Fragrance

Lemon Grass

Foaming action

Low

Acid content

Yes

Biodegrable

Yes

PH (10%Solution)

2.00 2.5

Flammabilty

None

Specific gravity

1.05 - .05